FJK 112
Rubens Peter-Paul
(Flemish, Siegen 1577–1640 Antwerp)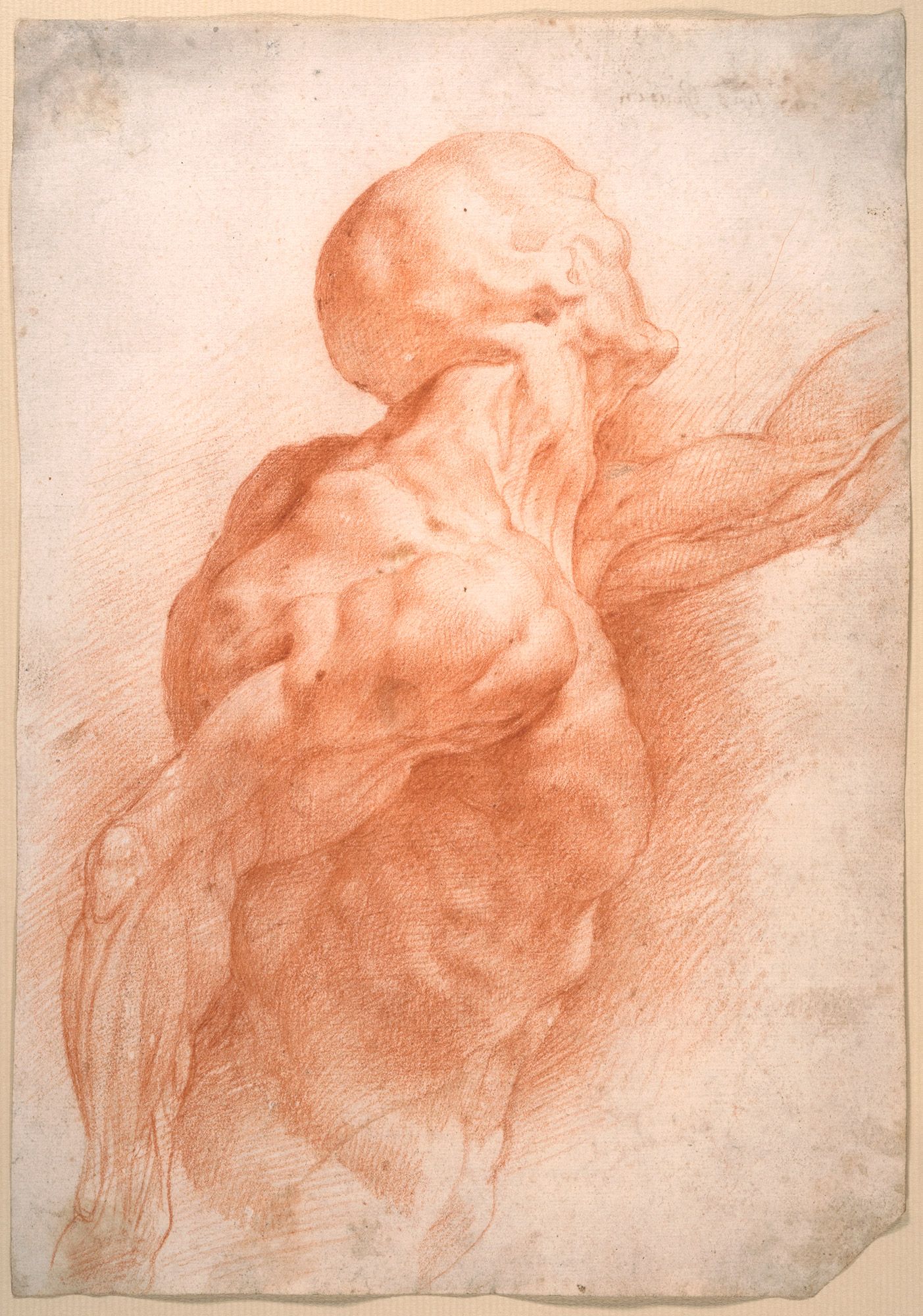 Anatomical Study
ca. 1606-1608
10 3/4 × 7 9/16 in. (273 × 192 mm)
Medium
Red chalk on watermark paper: heraldic lily above M (Briquet 7307, Mantua 1575)
Late inscriptions on the reverse: he was Given, exen and EV (?)
Origin
Pierre Crozat Collection, Paris (?)
Sir Roger Newdegate Collection, Great Britain
Private Collection, Great Britain (by descent)
Sale, Christie's, London, July 6, 1987, no. 60
Jan Krugier Collection, Monaco, JK 4351
Jan Krugier Foundation
Bibliography
JAFFE Michael, Rubens's Anatomy Book,Old Master Drawings, Christie's, London, July 6-7, 1987, pp. 58ff, ill.
GOLDNER G.R., HENDRIX L. (with PASK Kelly), The J. Paul Getty Museum, European Drawings, vol. 2 (Inventory), Malibu, 1992, mentioned under no. 85.
Exhibitions
Berlin , Kupferstichkabinett, Staatliche Museen zu Berlin - Preussischer Kulturbesitz, Linie, Licht und Schatten. Meisterzeichnungen und Skulpturen der Sammlung Jan und Marie-Anne Krugier-Poniatowski, 1999, p. 94, no. 40, color ill. p. 95.
Venice, Peggy Guggenheim Collection, Solomon R. Guggenheim Foundation, The Timeless Eye. Master Drawings from the Jan and Marie-Anne Krugier-Poniatowski Collection, 1999, p. 100, no. 43, color ill. p. 101.
Madrid, Museo Thyssen-Bornemisza, Miradas sin Tiempo. Dibujos, Pinturas y Esculturas de la Coleccion Jan y Marie-Anne Krugier-Poniatowski, 2000, p. 126, no. 47, color ill. p. 127 .
Paris, Musée Jacquemart-André, La Passion du dessin. Collection Jan et Marie-Anne Krugier-Poniatowski, 2002, p. 110, no. 43, color ill. p. 111.
London, National Gallery, Rubens. A Master in the Making, 2006, p. 102, no. 40, color ill. p. 106.
Munich, Hypo-Kulturstiftung, Das Ewige Auge - Von Rembrandt bis Picasso. Meisterwerke aus der Sammlung Jan Krugier und Marie-Anne Krugier-Poniatowski, 2007, p. 106, no. 45, color ill. p. 107.
LÉVY Bernard-Henri, Les Aventures de la vérité. Peinture et philosophie : un récit, exh. cat. Maeght Foundation & Grasset Press, 2013, p. 227.
Notes
This male nude drawing belongs to a group of eleven anatomical studies which were sold at Christie's. They show male bodies, partially in motion, isolated or entwined, as well as foot and hand studies. The focus is on the representation of muscles and tendons. Most of them are drawn in pen, except for three of them in charcoal or red chalk.
Michael Jaffé attributed this group of drawings to Rubens. He had already established a connection between four of them and a project for an anatomy book by the master from Antwerp. (1966, pp. 38-9, 42-3). The main reason for this attribution, apart from any stylistic consideration, is the close relationship between these sheets and documented works from Rubens' studio. The most important group, said Rubens Cantoor, and preserved in the Department of Drawings in Copenhagen, comprises copies after the originals rediscovered in 1987.
Willem Panneels, who worked in the workshop of Rubens for a while, noted on some drawings that they were made after the master's anatomy book Uit den annotomibock van rubbens (Garff /de la Fuente Pedersen, 1988). Similar anatomical studies appear in some engravings by Paulus Pontius, an engraver who also worked in Rubens' studio. They were published between 1640 and 1658, after the master's death, in the drawing book by Alexander Voet. Rubens is also mentioned in the frontispiece as an author of anatomical prints: "Petrus Paulus Rubens delineavit." Jaffé concludes that these drawings were meant for this anatomy book left unfinished and that they are by Rubens.
The attribution of these drawings has been accepted despite their singularity (Goldner/Hendrix, 1992 and Mullet, 1993). Only Garff expressed doubts and suggested to attribute them to Bartolomeo Passarotti and Paulus Pontius (Garff/de la Fuente Pedersen, 1988, pp. 79ff). Apart from the fact that copies of the time and prints give Rubens as the author, the vigorous line of these sheets argues in favor of such an attribution. The drawings in red chalk, including the present sheet, can be compared to the studies of antique sculpture also in red chalk, especially to the Laocoon (Held, 1986, nos. 34-36).
The drawings show the way Rubens models and structures the human anatomy with crossed and parallel hatchings. As in the pen studies, the lines create uniformity close to that of prints, reflecting perhaps Rubens' will to engrave them. The studies of antique sculpture date from 1605-08, during his second trip to Rome. The anatomical drawings could have been made during the same years or at the beginning of his stay in Antwerp, shortly after his return from Rome, between 1608 and 1610.
At the time, the representation of human anatomy was not due to the knowledge of human body, but to the study of antique sculpture. The most highly regarded statues were the ones presenting the most developed musculature and most vigorous movements, like Farnese Hercules or Laocoon.
The illustrations of anatomy books by Andrea Vesalius (1543) and his followers were an additional source of inspiration. At the time, figures of écorchés were also prevalent (Muller, 1993). Regarding the present sheet, the pose of the body evokes an écorché of the Borghese Gladiator, one of the most famous Roman statues in the sixteenth and seventeenth centuries.
Holm Bevers, La Passion du Dessin, Paris, Musée Jacquemart-André, 2002, p. 110 (translated from French)
Request for information/loan
The Jan Krugier Foundation is devoted to increasing the impact of the collection of drawings through regular loans to major exhibitions. Loan applications should include a complete presentation of the project.