FJK 058
Guardi Francesco
(Italian, Venice 1712–1793 Venice)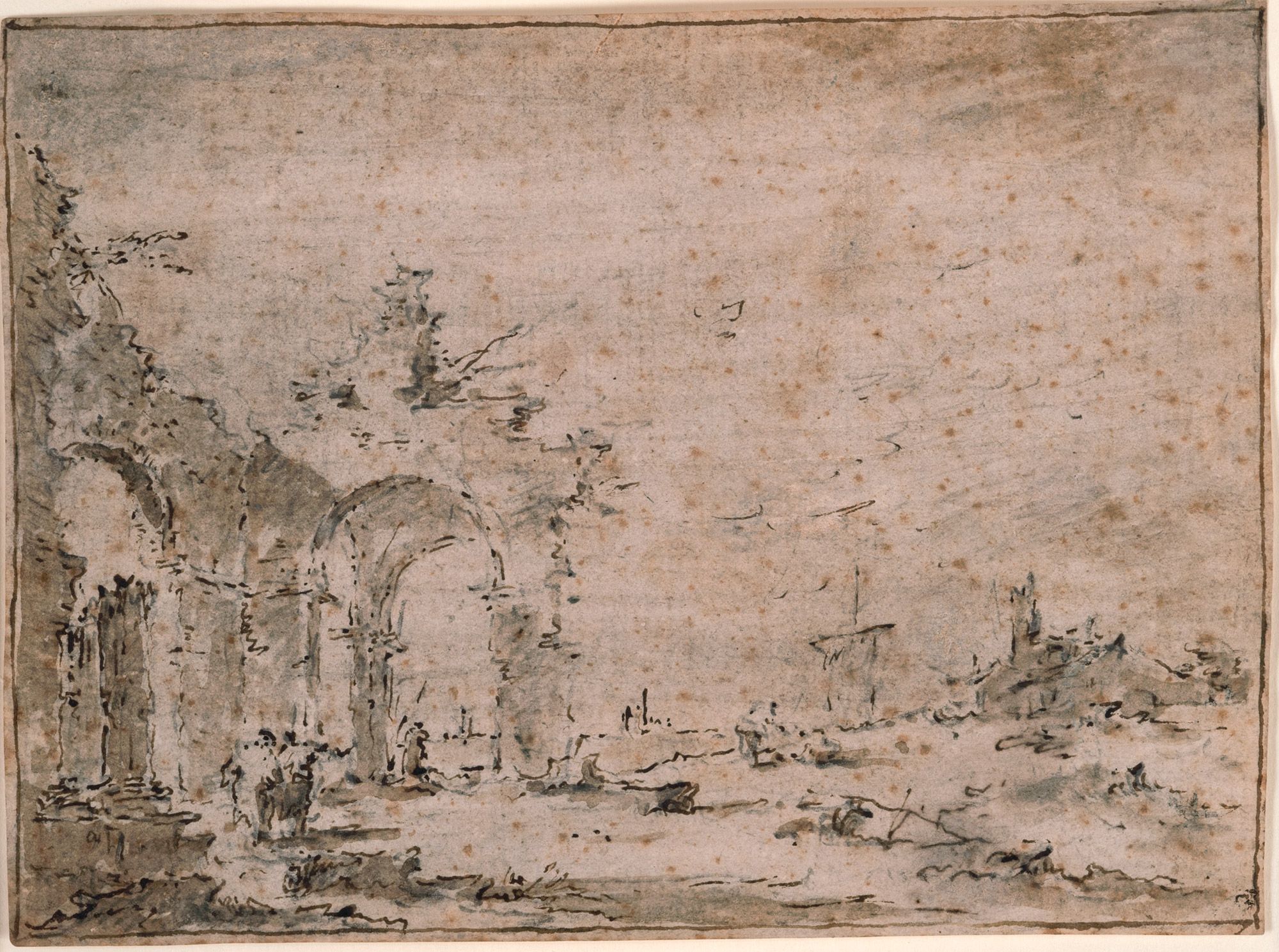 Venetian Capriccio with Arches and Figures
After 1780
5 19/32 × 7 3/4 in. (142 × 197 mm)
Medium
Pen, brown ink, wash and charcoal on grey prepared paper
Indistinct sketches in charcoal, pen and brown ink on the reverse
Origin
Sir Algernon Peyton, Bt. Collection
Dr. and Mrs. Francis Springell Collection, Portinscale
Sale, Sotheby's, London, June 30, 1986, no. 82
Jan Krugier Collection, Monaco, JK 4166
Jan Krugier Foundation
Bibliography
MORASSI Antonio, Guardi, Venice, 1973, vol. I, p. 446, no. 728.
MORASSI Antonio, Tutti i Disegni, Venice, 1975, p. 165, no. 491, fig. 448.
DÜCKERS Alexander, Linie, Licht und Schatten, Meisterzeichnungen und Skulpturen der Sammlung Jan und Marie-Anne Krugier-Poniatowski, Berlin: G & H Verlag, 1999, Catalogue raisonné, p. 404, ill.
RYLANDS Philip, The Timeless Eye. Master Drawings from the Jan and Marie-Anne Krugier-Poniatowski Collection, Berlin: G & H Verlag, 1999, Catalogue raisonné, p. 403, ill.
Exhibitions
London, Gallery Colnaghi, Loan Exhibition of Drawings by Old Masters from the Collection of Mrs. F. Springell, 1959, no. 63, pl. XXV.
Venice, Fondazione Giorgio Cini, Canaletto & Guardi, 1962, no. 79; Edinburgh, no. 80.
Notes
K. T. Parker and J. Byam Shaw, in the catalogue of the Cini exhibition, date the drawing after 1780.
Sotheby's, Drawings from the Springell Collection, London June 1986 (extract from)
Request for information/loan
The Jan Krugier Foundation is devoted to increasing the impact of the collection of drawings through regular loans to major exhibitions. Loan applications should include a complete presentation of the project.