FJK 017
Callot Jacques
(French, Nancy 1592–1635 Nancy)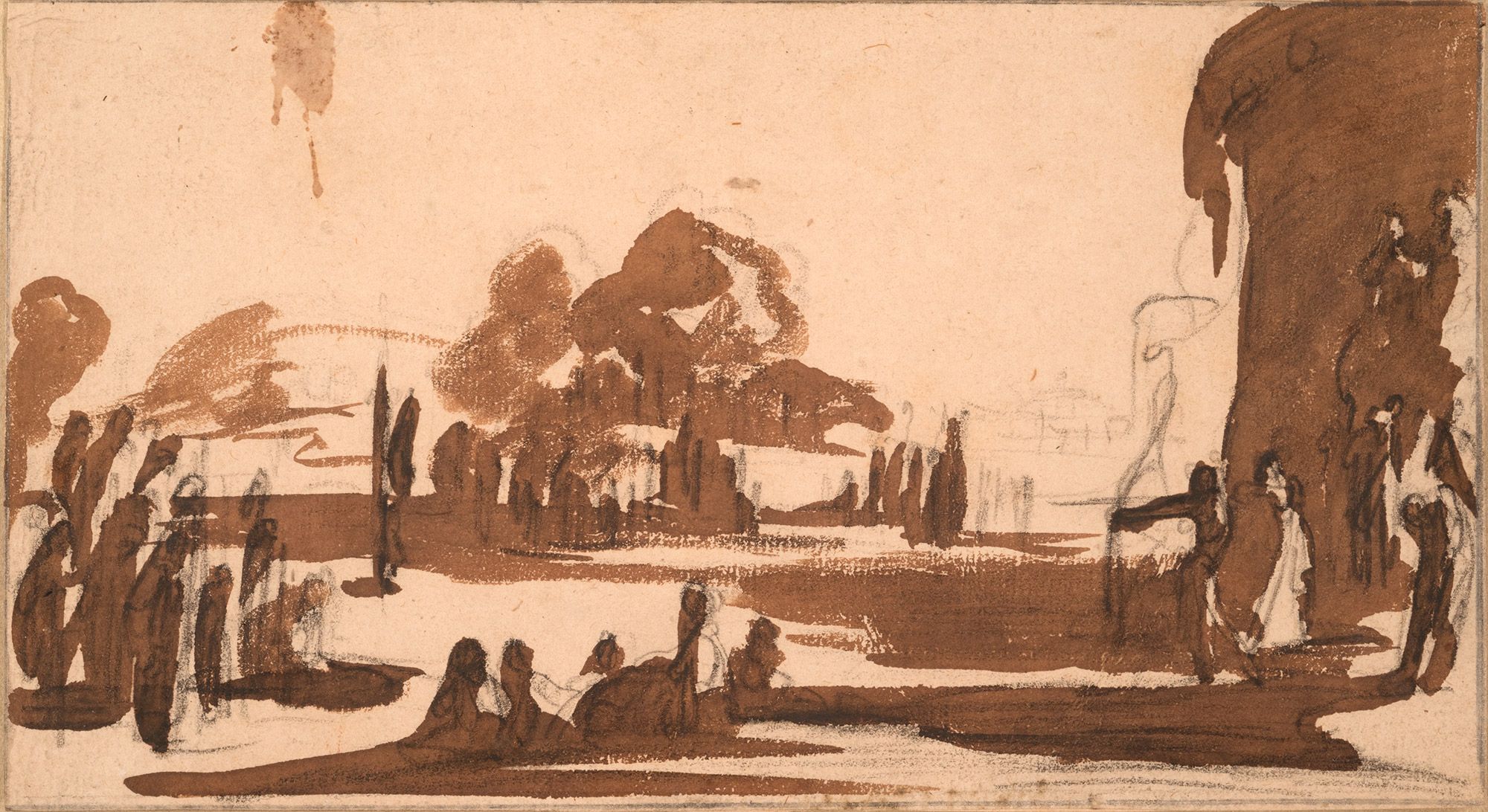 The Martyrdom of Saint Sebastian
ca. 1632
4 7/8 × 8 13/16 in. (124 × 224 mm)
Medium
Black chalk and bistre wash on clear brown paper
Origin
Jacques Dupont Collection, Paris (1960)
Private Collection (by descent)
Sale, Christie's, London, July 4, 2000, no. 148
Jan Krugier Collection, Monaco, JK 5821
Jan Krugier Foundation
Bibliography
TERNOIS Daniel, "Le Martyre de Saint Sébastien de Jacques Callot," in Pays Lorrain, 1954, pp. 46-49, ill.
TERNOIS Daniel, Jacques Callot, Catalogue complet de son œuvre dessiné, Paris: F. de Nobele, 1962, p. 153, no. 1173, ill.
CAFFIER Michel, L'univers de Jacques Callot, Collection 'les Carnets de Dessins', Paris: Henri Scrépel, 1986, color ill. on cover and p. 75.
Exhibitions
Lorraine Marche de France. Deuxième centenaire du rattachement des Duchés de Lorraine du Bar à la France, 1766-1966, Paris, 1967, no. 164.
Palazzo Strozzi, Florence, Il Seicento Fiorentino. Arte a Firenze de Ferdinando I a Cosimo II, (catalogue by Chiarini), 1986-87, no. 2.148.
Nancy, Musée historique lorrain, Jacques Callot 1592-1635, 1992, p. 484, no. 634, ill.
Paris, Musée Jacquemart-André, La Passion du dessin. Collection Jan et Marie-Anne Krugier-Poniatowski, 2002, p. 116, no. 46, color ill. p. 117.
Munich, Hypo-Kulturstiftung, Das Ewige Auge - Von Rembrandt bis Picasso. Meisterwerke aus der Sammlung Jan Krugier und Marie-Anne Krugier-Poniatowski, 2007, p. 120, no. 52, color ill. p. 121.
Notes
Notes (1)
The [present sheet is the] first [thought] of a series of three preliminary drawings for the print of The Martyrdom of Saint Sebastian. In this first sketch, engraved in reverse, only the arrangement of the masses of shadow and light, along with the main groups of figures, are kept. The archers are shooting sidelong at Saint Sebastian, and not perpendicular to the plane of the sheet as in the print.
Christie's, Old Master Drawings, London July 2000
Notes (2)
Since Baldinucci, everyone agrees to date the print The Martyrdom of Saint Sebastian during the Lorraine period of Callot. This is confirmed by the first states of the engraving, usually printed on watermark paper comprising a double C with the cross of Lorraine. Yet, opinions differ regarding the exact date. Glikman contributed a valuable observation in 1959, showing that the same figures appear in three studies at the Hermitage (Ternois, 1177, 1185, 1190), engraved in Saint Sebastian and Les Grandes Misères de la guerre, a series published in 1633. Therefore, one may suggest the date of 1632-33 for Saint Sebastian.
The genesis of this print is quite well known thanks to three sketches of the whole composition in black chalk with bistre wash and sixteen studies of figures in red chalk (Hermitage, T. 1176-1191). The three sketches must have been executed in the following order: Private collection (T. 1173), Crocker Art Gallery, Sacramento (T. 174), Victoria & Albert Museum, London (T. 1175). They are more and more advanced and demonstrate that Callot conceived gradually the final composition one can admire in the print. The Louvre has a copy in oil, coming from Mariette and long thought to be by Callot. Another painted copy, reproduced by N.S. Trivas in 1941, was then in the Parisian art market.
Chiarini (cat. Florence, 1986, II, no. 2.148) notes "the obvious analogy between the composition engraved by Callot and a painting on the same subject by Filippo Napoletano" (a corridoio coming from the interior decoration of the private apartment of Cosimo II at the Pitti Palace, now at the Uffizi Gallery, Florence, exhibited in 1986, no. I.77). A tower appears in both works.
Anonymous author (translated from French)
Request for information/loan
The Jan Krugier Foundation is devoted to increasing the impact of the collection of drawings through regular loans to major exhibitions. Loan applications should include a complete presentation of the project.