FJK 005
Bassano Jacopo (Jacopo da Ponte)
(Italian, Bassano del Grappa ca. 1510–1592 Bassano del Grappa)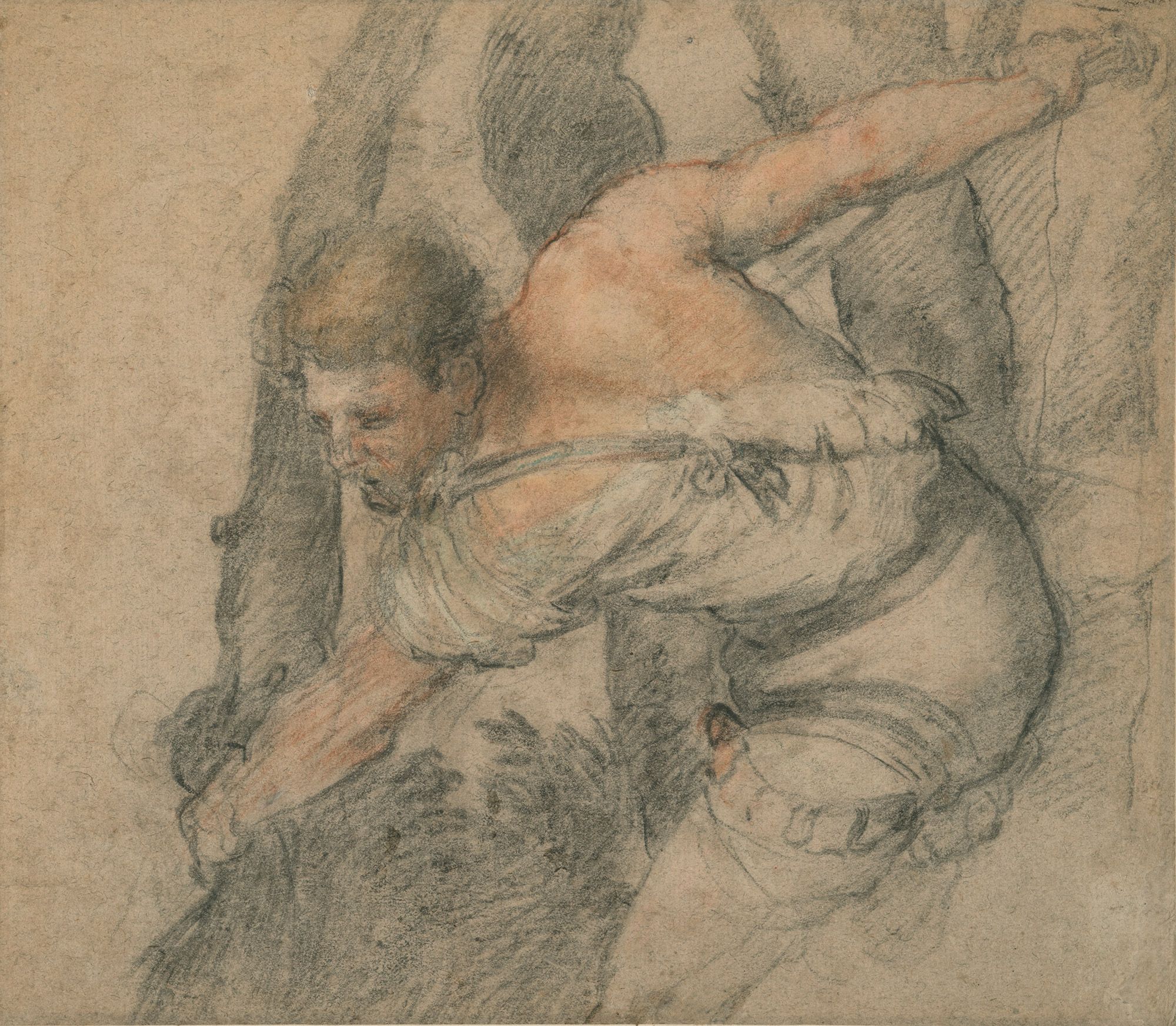 Executioner after Titian
1568-1569
10 5/8 × 12 13/64 in. (270 × 310 mm)
Medium
Black and red chalk, heightened with colored chalks on faded blue paper
Origin
John Skippe Collection (before 1958), by descent
Edward Holland Martin Collection, London
Sale, Christie's, London, November 21, 1958, part of no. 220
Seiferheld Gallery, New York (1958-1961)
Mrs. Charles Goldman Collection, New York and Montreal
Sale, Christie's, New York, January 23, 2002, no. 2
Jan Krugier Collection, Monaco, JK 5999
Jan Krugier Foundation
Bibliography
POPHAM A.P., Catalogue of the Skippe Collection, 1958, p. 155, no. 220B.
VAN SCHAACK Eric, Master Drawings in Private Collections, New York: Lambert-Spector, Inc., 1962, p. 73, no. 18, ill.
REARICK W.R., "Jacopo Bassano. 1568-1569," in The Burlington Magazine, CIV, 1962, p. 525.
REARICK W.R., Jacobus a Ponte Bassanensis, Bassano del Grappa, 1989, III, no. 1.
REARICK W.R., Il disegno veneziano del Cinquecento, Milan, 2001, p. 155.
Exhibitions
New York, Seiferheld Gallery, Bassano Drawings, February 1961, no. 1, text by W.R. Rearick.
Jerusalem, The Israel Museum, The Promised Gift Exhibition, 1985 (Loan from Mrs. Charles Goldmann, New York).
Paris, Musée Jacquemart-André, La Passion du Dessin. Collection Jan et Marie-Anne Krugier-Poniatowski, exh. cat., 2002, p. 86, no. 31, color ill. p. 87.
Notes
In agreement with Bernard Berenson's opinion, Popham considered this drawing a copy by Federico Barocci after The Martyrdom of Saint Peterby Titian (formerly in SS. Giovanni e Paolo, Venice). Now Popham attributes it to Jacopo Bassano after Titian. He considers this drawing a first stage of the Flagellation of Christ preserved at the Galleria dell'Accademia in Venice, dating from 1568s (1961, 11962). Jacopo Bassano studied works by old masters closely so as to expand his experiments during his constant aesthetic search.
The Martyrdom of Saint Peter by Titian inspired him a lot as he reproduced in his sketch the executioner's powerful twist in this high altar. If Bassano went to Venice in fall 1568, his attraction for the cruel figure of the executioner could also have another reason. He had received a commission for an horizontal Flagellation of Christ (Galleria dell'Accademia, Venice), and had to find a model for the figure seen from the back whipping Christ. The executioner painted by Titian shows this violent gesture, but he is viewed from the front. In rotating his figure, Bassano could also conceal his source. Charcoal is also the most economical and efficient means for this task. In his drawing, Bassano also uses his favorite technique, colored chalks, to evoke the contrast of red, brown and white tones in Titian's painting. One can imagine that Bassano executed many such sketches after Titian, completed in a timely manner and with confidence thanks to this medium. Quite remarkably, it is the only surviving drawing of this kind.
Back home, Jacopo Bassano studied this drawing along with other similar examples before starting his painted project. He drew his concettofor the Flagellation of Christ with different colored chalks on a sheet of blue paper (National Gallery of Art, Washington D.C., Acc. no. 1980). This is the first of his famous studies for pictorial compositions.
The figure by Titian has been largely modified, but the position of the shirt on the shoulders is identical to the one depicted in the painting at SS. Giovanni e Paolo. He later added: "1568/da agost 1". Perhaps dissatisfied with the composition, Bassano redesigned the Christ face on a faded blue paper turned beige (Private collection, Paris). While reworking the Christ face and the figure of the executioner, he comes back to the frontal silhouette view designed by Titian. Once ready to paint on canvas, he is using the golden and brown tones, typical of his palette in the 1568s.
W.R. Rearick, La Passion du Dessin, Paris, Musée Jacquemart-André, 2002, p. 86 (translated from French)
Request for information/loan
The Jan Krugier Foundation is devoted to increasing the impact of the collection of drawings through regular loans to major exhibitions. Loan applications should include a complete presentation of the project.